Smart Warehouses - Fueling Supply Chain with Innovation & Technology
Smart Warehouses - Fueling Supply Chain with Innovation & Technology
Smart Warehouses - Fueling Supply Chain with Innovation & Technology

By Anson Tong | March 30, 2022
A smart warehouse is an automation-driven inventory management center, which brings good productivity and high accuracy by reducing the demand on human workers and optimizing their efficiencies. According to Statista, the global market size of warehouse automation is expected to reach US$30B in 2026, double that of 2019.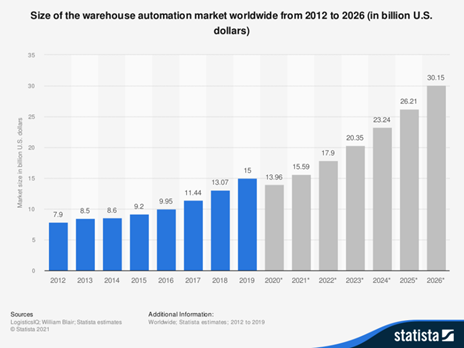 When used in conjunction with a reliable warehouse management system, a smart warehouse is able to build an ecosystem to conduct goods receiving, sorting, picking and unloading process. Unmanned vehicles, together with automated picking tools and inventory control devices, are therefore the key components to smooth these operations with agility and good traceability.
As the industrial market leader to support the development of smart warehouses, C&K offers a series of competitive switch products for both AGV (Automated Guided Vehicles), AMR (Autonomous Mobile Robots),  drones, conveyer systems as well as robotic arm applications.
AGV / AMR
AGV and AMR are the short forms of "Automated Guided Vehicles" and "Autonomous Mobile Robots" respectively, which work as the automated load carrier inside the warehouses, driven by path guidance system and software to support the internal transportation at a low operation cost through reduced labor cost and human errors. It has been reported that Amazon has over 200,000 mobile vehicles which have been working among its warehouse network since 2021.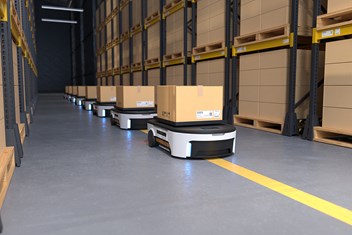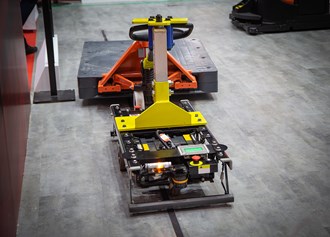 The movement of the AGV/AMR are remotely controlled by a central system, however there are requirements for push buttons and other switches inside these devices, to support the basic functions such as "On/Off", "Start/Stop" as well as "Reset". Another typical application in each device might be for DIP switches to set codes or communication channels so they can communicate without interfering with other local devices or networks.
C&K's PLP and AP series are compact, panel mounted push button switches that are able to support 1 million operating cycles with IP65 or IP67 sealing. Multiple colors are available for the button caps button with and both are offered with optional illumination. Such pushbuttons are ideal for AGV/AMR devices.
                                                          Pushbuttons: PLP & AP                                Tactile: K8 & K5AT
Drones
With the advantages of being safe, easily controlled and having the ability to reach narrow and high locations within a workspace, drones are certainly an essential component in the smart warehouse ecosystem.
They are normally equipped with sensors, cameras and bar code / QR code scanners to conduct inventory management tasks such as stock taking, cycle counting, and to locate the cargos' storage positions. According to system operators, they claim the drones are able to speed up the job completion by 50%, in comparison with similar manual checks. An advanced remote-control unit is a key component in a drone system to ensure smooth completion of these tasks, without operator error or fatigue, and highly reliable tactile switches and thumb sticks are critical elements of their design.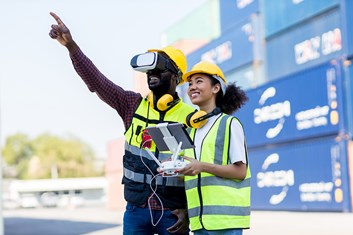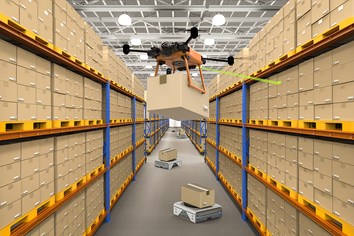 As the industry leader in tact switches, C&K provides the widest portfolio of tactiles, including the popular KSC4 series which are IP67 sealed tact switches in a common SMT package. Combined with its 5.2mm high, soft actuator, this product is able to support positive adaptable tactile feeling and the capability to work under harsh environments, withstanding the impact from vibrations and shocks. Depending on models, the lifespan of KSC4 is a minimum of 5 million cycles which is a great choice for those functional buttons which are used in the remote controllers to perform "On/Off", "Shuttler", "Flight pause", and "RTH (Return To Home)" actions.
For the control stick, C&K offers the miniature thumb stick switches (THB series), which combine small package with improved ergonomics. High-quality dual axis lever with integrated center select switch can be found in this product range and parts of the THB Series are capable of a minimum of  2 million electrical cycles with high actuation force and wide angular sweep.
                                                                                   Tactile: KSC4              Thumb Stick: THB
Robotic arms and conveyor systems
The combination of conveyor with robotic arms play an important role for the cargo transportations within the warehouse. The multi-jointed limb articulated robot arms are able to handle heavy and large amount of inventory tasks just like pallet picking, receiving, packaging, loading and sorting. With the integration of automated conveyer systems, they support a fast and efficient flow of materials between locations at great heights or narrow areas inside the hub with minimized picking errors, or cargo damage. These systems also help to avoid potential warehouse staff injuries sustained whilst moving heavy goods, which can be supported by this automated cargo management system.
Like drones, the operations of both the robotic arms and conveyors are heavily reliant on an advanced controller or a control panel. C&K provides an ideal solution for those functional buttons (i.e. mode selection, power on/off, motors start/stop and reset) which are being used in these devices, including push button switches, tactile switches and switch locks as well.
C&K PLP series push button switches supports illumination options with flexibility of cap sizes, styles and colors customization. They also feature reduced size panel cut outs (Ø16mm from PLP16) together with up to IP65 standard and an life of 1 million operations. Another strong candidate for these applications is the ATP series pushbutton which is made from robust stainless steel or aluminum alloy, with light weight but high strength: Ideal for operations in harsh environment where there is the potential for damage. The ATP series also supports 1 million operating cycles, is IP67 rated, and has illuminated options. These characteristics make the PLP and ATP the best choices for the buttons in the conveyors' control panels.
The H Series power switch lock, and KSC series tactile switches are the other key components for control panels. The H series supports multi-pole and multi position power switching up to 12A rating, with 2-4 positions under 45º or 90º index.  Regarding the tactile switches, KSC products are sealed at IP67 and support positive adaptable tactile feeling with long life options available for some models (guaranteed minimum of 5M operations). With the high level of dust/water protection and proven durable performance, KSC should be your choice for any logic level switching in robotic arms controllers.
                                                                Tactile: KSC                  Pushbuttons: PLP & ATP                Switch Lock: H