Rocker Switch Selection
Rocker Switch Selection

By Troy Dixon-Sekaquaptewa | July 20, 2022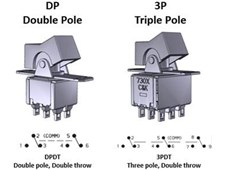 As industries and applications evolve, the way we interface and interact with the electronic equipment we use in them will also evolve. Many traditional Human-machine interfaces (HMI) are changing. However, even in a world where touch screens are growing in popularity, they are not the right choice for every application. In a typical industrial setting, few if any machines, instruments, or other pieces of equipment have touchscreens as they are not suitable for environments where many operators wear protective gloves. Enter the reliable and tough rocker switch, invented in 1916. Whether it is the ubiquitous power strip (i.e. surge protectors and UPC), heavy industrial equipment, or any other application where rugged, reliable, high current power switching is needed, the stalwart rocker switch is the standard switch for electronic controls. Even in some smaller form factor applications, a rocker switch is an ideal solution with its intuitive haptic response familiar to many people, its ability to be sealed against harsh environments, and integrated illumination to provide non-contact visual confirmation of its current switch status.
How to Select the Best Rocker Switch for Your Application
C&K has 15 unique Rocker Switch series to suit almost any application offering a full complement of design options to accommodate your application needs. Sizes range from subminiature to larger industry standards. Current switching capabilities are available from low signal level current to high amperage power switching. Environmental sealing up to IP65 provides total dust tightness and resistance against water. Mounting options include both PCB and panel mounts, with or without illumination.  Simply put, C&K has the right rocker switch for your application.
Physical Size and Power Switching Capabilities
Physical switch size is often determined by the required current rating that you need to switch. Low current (logic level) switching loads can be accomplished by physically smaller switches. However, an application switching a power supply using 3A to 16Amps will usually require a physically larger Rocker Switch. Some of our Rocker switches can support low current and high-power applications with the same Switch design. This would be accomplished by selecting the appropriate contact material (e.g. gold for low signal level currents and silver for high power applications). C&K offers multiple contact material options so if you have any questions about the right material for your application please contact us for more information.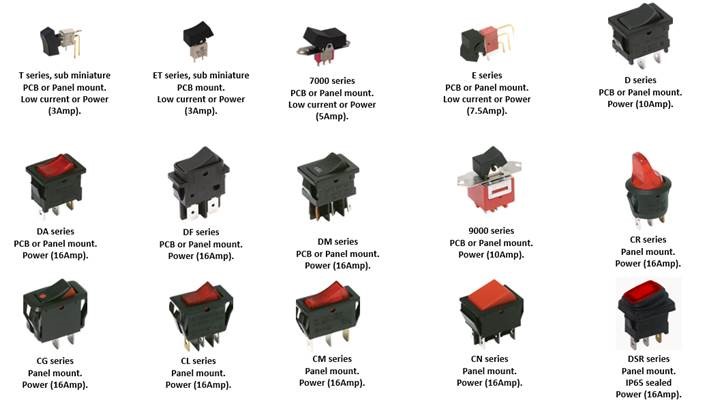 Number of circuits and positions
Whether you are switching high power or low current, C&K offers a wide choice of switching configurations within a single switch body (multiple poles, multiple throws), giving designers options to control multiple loads simultaneously. The benefit of this is to give flexibility to customers and save space while providing multiple circuits control with a single switch. It can also provide a form of redundancy in mission critical applications where a switch failure would jeopardize health and/or safety. C&K's Rocker Switches follow common acronyms to denote number of Poles (number of circuits) and number of throws (number of positions that a switch can close):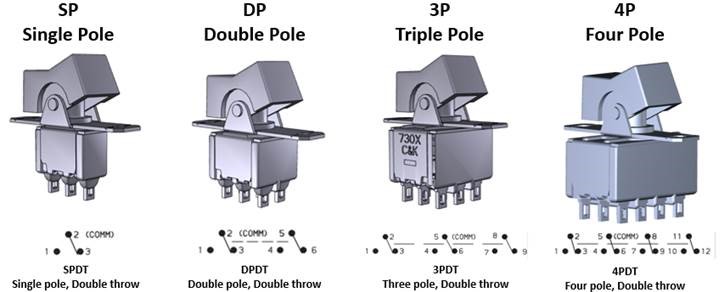 Illuminated switches are commonly used in applications located in poorly lit environments (e.g., dimly lit vehicle cabins), which can make it difficult to identify individual switch function. C&K offers both Neon and LED illumination options.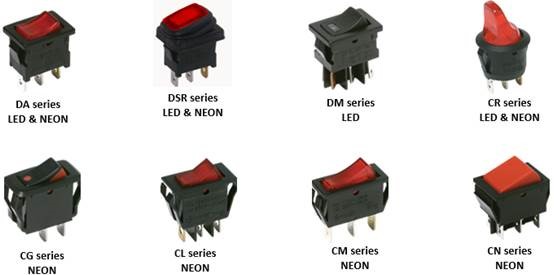 Travel
Another consideration is travel, or how far the actuator is moved when moving the Rocker Switch from one position to another. A combination of the height of the actuator, the force required to move the actuator, and the length of travel will fundamentally change the feel, or haptic response that the user will experience. C&K has a variety of actuator travel options to meet your design needs.

Termination Style
C&K offers a variety of termination options from PCB mount to solder wire and quick connect (faston) connections. If your application requires a panel mount Rocker Switch then Solder lug or Quick Connect terminals would be used. If your application requires a PCB mount then one of our many PCB terminal options (straight, Right angle or support bracket) would be used.
Special Requirements
If your application requires a custom legend to be printed on the Rocker actuator, you need a wire harness connected to the switch when shipped, or you have any other special requirements, C&K can help you customize a Rocker Switch to meet your needs.
Experience, knowledge, and dedication to customer service separate C&K from its competitors. Effective access control begins with a C&K switch.