C&K's Response to Changes COVID-19 Is Making in the Medical Marketplace
COVID-19 Testing, Vaccines, 5G, the Connected Community and a Massive Market Expansion
COVID-19 Testing, Vaccines, 5G, the Connected Community and a Massive Market Expansion
By Daisy Liu & Roger Bohannan | January 21, 2021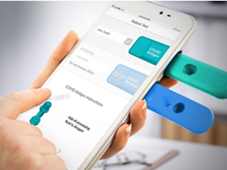 PART 1 of 3
2020 has ended and a new year is upon us. Reflecting on the fight against COVID-19, the FDA has approved medical equipment, COVID-19 testers, pharmaceutical therapies and vaccines. One of these newly approved COVID-19 testers is allowing for home-based information that provides immediate results of your contact and the potential infection from the virus.
As we have seen from the testing process today: you encounter a symptom, symptoms intensify, you get a Covid test and wait. Days later, you receive the results. Hopefully the results are negative. But if it's positive, over the pre-symptom period, who knows how many people you have encountered and potentially infected. As more information comes in, we are seeing greater transmission from asymptomatic carriers than we are seeing from people showing symptoms. More frequent testing is necessary.
Some interesting data. We see the comparisons for each country: number of tests vs. number of cases vs. number of fatalities.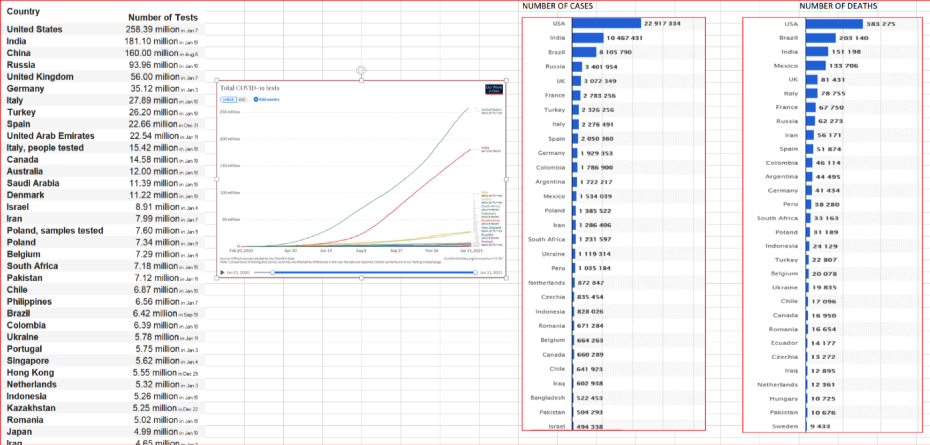 Data courtesy of: © statista 2021
What can we derive from these numbers? Generally, the countries with the most tests have the most cases. The Asia region, excluding India, show fewer cases and is an outlier in this conclusion. That can point you to the potential that countries with low testing are missing cases and the spread may be more extensive than the numbers indicate.
Expanded testing globally is needed urgently. 
Global COVID-19 case numbers are increasing quickly. Transmission is accelerating. Advanced, portable and connected tools are needed to slow the spread of this virus. The world also needs access to fast, affordable, easy-to-use home testing to release the burden at hospitals and test centers. Necessity is the mother of invention. Along comes Ellume. A digital diagnostics company headquartered in Queensland, Australia. They have received FDA approval for their home-based COVID-19 tester. It is aligned with a digital platform that allows for full process analysis, traceability, and post testing health follow up.
A positive test result will allow for immediate isolation and a great deal less potential for spread.
This tester provides a home base analysis. The test is performed by the tester's electronic analyzer. Using internet or Bluetooth connectivity, the test result will notify the user via smartphone in 15 minutes or less. With the rise of virtual medical and telemedicine promoted by COVID-19, this testing expansion is most obvious for COVID-19, but the flu and critical vital statics are needed from tele medical patients for an accurate and complete diagnosis. As with the home based COVID-19 tester, we need connected tools and personal measuring devices. Tele-healthcare providers need the assistance. New devices are launching allowing for this type of data to be available accurately and to doctors immediately in real-time.
C&K is recognized as the leading manufacturer of high quality, micro miniature, electromechanical switches in the world. Helping global brands and product innovators by providing advanced switching solutions and innovative products for medical device manufacturers. We don't stop there. C&K also provides the most useful switching solutions for automotive, consumer and industrial applications.
C&K's "NanoT", the world's smallest tactile switch, meets all the performance needs for the most demanding medical applications. Low profile (0.55 mm above PCB and 2.1 x 1.65mm), the ultra-compact size offers designers the freedom to create products without compromising on product size, quality or performance. With its small footprint, designers can now have the flexibility to either free up room in their designs to add additional functionality or reduce the overall size of their printed or flexible circuit board (PCB/Flex).   
Seamless and rounded screens on next generation medical devices are where miniaturized solutions are in high demand. Innovation and ergonomic designs often create difficult geometries to reach on new devices. C&K's integrated actuator provides full interface buttons for both top actuator version and side actuator version. The side actuator version is designed with an edge mount soldering configuration with excellent resistance to shock and shear testing, improving equipment lifetimes. The product design also ensures a high sealing level, IP67 rated, offering the ultimate protection against dust and water ingress.  The "NanoT" offers 100, 160 & 240 gf with life cycles up to 500k cycles, which are all the most common versions used by the market.
Another solution is the RKA2.  If customer has a little bit space, C&K RKA2 series is another good option in the medical market. RKA2 has also low profile only 0.55mm above the PCB and 4.5 x 4.5 mm dimension, the low profile and compact size gives designers the room to choose to add additional functionality to their units or reducing their PCB size. RKA2 series offers operating forces from 160gf, 250gf, 400gf to 540gf version, those are the most common versions used by the market. Life cycles up to 500K cycles provides reliability for customer's application.
When you are designing a medical device, think of C&K first. If you have a switching or detection challenge, call C&K. When your next generation connected device needs added capability from your switching or detection strategy, C&K can help.