Switches Integral to Transportation in 5G World
Switches Integral to Transportation in 5G World

By Craig Thomson | May 11, 2020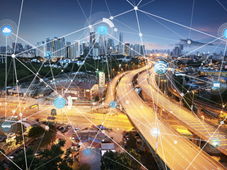 Below is an abstract of the white paper, Switch on Innovation: 5G and the Future of Smart Cities which explores how 5G is fueling excitement as design engineers, technologists, and urban planners ponder the extents and impacts of the technology. For the full white paper, download here.
The 5G race is on, and the stakes are high and soaring higher.
China and the United States are scrambling to take the lead in deployment of 5G wireless technology, which is expected to be 100 times faster than today's 4G networks. Getting there first is the initial step to being the world's economic superpower entering the second half of the century. It translates to more jobs, larger profits and the central place on the world stage.
5G will compose a global market of $237.6 billion by 2025, according to Grand View Research, and touch on every facet of commerce and life. In particular, transportation will be vividly affected. Autonomous cars will become not only reality but the norm. People who can or do not drive will no longer be left looking in from the outside. Entertainment and business communication systems will transform the passenger experience. Fewer drivers will result in less traffic.
Commutes will be eased by wirelessly linked vehicles and units so that travelers get traffic alerts and safety warnings in real time. Public transit will cease to be the headache that it is so many cities today. Connected vehicles and infrastructure will result in improved traffic flow that will shorten transit waits.
Already, telematics and options such as rear-view security cameras are making over fleet management. Blending video and vehicle data and machine vision technology, these devices help ensure goods efficiently get to the right place on time for retailers and businesses.
Automotive switches are at the center of the unfolding transportation transformation. Tiny, tough tactile pushbutton switches, will be needed for applications such as in-car security cams or forward-facing drive cams, to name just two. These switches must present designers with options as the quest to build more functionality into components is realized. Switches must also be highly responsive, with excellent tactile feel and the durability to withstand harsh environments.