Electromechanical Switches Still Relevant in a Digital World
Electromechanical Switches Still Relevant in a Digital World
By Mike Bolduc | November 20, 2019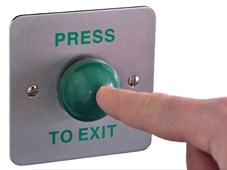 Driven by technology's transformational effects and the impact of forces both within and outside the marketplace, the once-static access control industry is on the rise.
Advances in wireless and smart technology are boosting the performance of access control systems at a time when they are more badly needed than ever. Terrorism is a threat from all corners, domestic and global. Smart homes, as well as smart businesses, are pushing the access control market higher. The list of factors is growing.
That, in turn, is producing a bullish market outlook. Business research insiders forecast that the access control industry will swell from $7.5 billion in 2018 to $12.1 billion by 2024, recording a compound annual growth rate of 8.24%. This roughly parallels last year's pace and a surge over the previous three years.
Expansion across the market is expected to stretch across a wide range, covering IP Networking products, identity and biometric readers, Access Control as a Service (or ACaaS) and more. Markets in Asia, where Chinese manufacturers are now entering, are projected to see even more significant growth. Smart companies know now is the time to join the move.
Global factors
At no point in the history of humanity has the need been more acute. While violent crime rates across the globe have decreased, the incidents of terrorism and mass shootings are multiplying. Cybercrime is a new category, and the rate is soaring. Revenues were expected to hit $1.5 trillion last year. While cybercriminals work their way into systems from outside them, physical access to facilities where those systems are housed opens broad new avenues into companies' network infrastructure.
These cunning new infiltrators operate alongside others of the more traditional variety — thieves, for example – who remain a constant threat. Further, there are a variety of other market factors contributing to the need for better access control, specifically in the areas of hazard detection and protection for children in the home.
Safeguarding buildings
Threats both from outside and within make controlling access to workplaces, factories, private and public offices, apartment buildings and other structures and facilities an essential component of any security plan. Unfettered access is a recipe for trouble and possibly tragedy.
Breaches can range from one earlier this year at The College of St. Rose in Albany, New York, where a former student destroyed 59 workstations by inserting a malicious USB device into them, to a former employee's May 31 attack at Virginia Beach that killed 12 people.
Tight, efficient access control with the capability to be applied quickly can save money, and it can save lives.
Putting controls to work
Access control applications cover the gamut, including door and gate release buttons, intercoms and call stations and automatic gates. Intercom systems allow voice communications between different locations. These systems, depending on their type, rely on station selector or network switches. Those switches and others used for various applications are at the heart of effective access control systems.
Switches carry out an array of functions, from user interface to tamper protection. Types include pushbutton, tactile, snap-acting, slide, detect, navigation, toggle, keyswitch, switchlock, rotary, rocker, and DIP.
Even with the Internet of Things, or IoT, fueled by wireless technology, it all breaks down without switches.
Gauging switches
High-performance electromechanical switches, capable of enduring both heavy, aggressive use and attempts to infiltrate or vandalize the system, are vital to effective access control. As one example, consider the abuses sustained by the switches at pedestrian actuated crosswalk signals. They must endure the abuses of the elements, as well as the impatient, for the system to effectively control the flow of pedestrians to intersections. If the switches falter, lives are endangered.
Engineers seeking to ensure they're getting switches that are up to the job can turn to a range of options to intelligently select the best devices. 3-D models and competitor cross-referencing can allow for analysis and comparison. A check of certifications acquired by switch manufacturers for the various devices they make can help ensure quality. Ingress Protection, or IP, ratings can provide insight into how effective a given switch is in guarding against the effects of dirt and moisture.
Making the right choice depends on testing selections within the correct parameters. When that happens, a clear winner emerges.
C&K: Industry leader
Based in Waltham, Massachusetts, and founded in 1928, C&K is a worldwide leader in the manufacture of high-performance electromechanical switches, including tact switches, DIP switches, anti-vandal switches and, snap-acting switches. Operating state-of-the-art design centers in North America, Europe, and Asia, C&K devices are assembled in more than 55,000 standard products and 8.5 million switch combinations.
Experience, knowledge, and dedication to customer service separate C&K from its competitors. Effective access control begins with a C&K switch.