Economical Sub-miniature Tactile Switch from C&K Supports One-Million Cycles
PTS526 Long Life Tactile Switch
Economical Sub-miniature Tactile Switch from C&K Supports One-Million Cycles
By News Author | February 22, 2022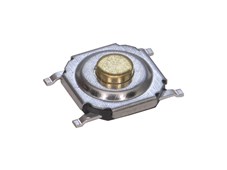 Designed for home automation, IoT devices and more, the PTS526 Series Long Life (LL) will perform for the lifetime of your product Series will perform for the lifetime of your product…
C&K, a leading manufacturer of high-quality electromechanical switches, has extended its tactile switch product family to include a long life sub-miniature version. The PTS526 Long Life (LL) sub-miniature tactile switch expands upon the popular PTS526 switch series, with a 100% increase in electrical life cycle from 500,000 to 1,000,000 actuations. The PTS526 Series LL addresses the growing need for high quality and competitively priced switch solutions for high-volume consumer manufacturing. 
The sub-miniature PTS526 Series LL switch has a 5.2 x 5.2 mm footprint and a customizable thickness of 0.8 mm up to 2.0 mm. With PCB space at a premium within consumer electronics devices, the ultra-compact PTS526 Series LL switch enables customers to either add more functionality to a design or develop smaller end-products — all without sacrificing performance or reliability.
With a large actuation surface for easier integration, the PTS526 Series LL is ideally suited for applications such as home automation, IoT devices and e-cigarettes, as well as control systems for items such as drones, e-bikes and robot vacuum cleaners. 
"C&K has improved the PTS526 to meet the needs of many commercial applications, which are requiring higher performance levels.  The PTS526 LL is being offered with economical pricing to provide our customers with the best blend of performance and price," comments Daisy Liu, Global Product Manager, Tactile Switches at C&K.
For more information on C&K's new PTS526 LL series tactile switches, including details and specifications, click below: 
About C&K
At C&K, we do more than just make the world's best switches. We are trusted advisors, helping global brands and innovators improve customer satisfaction by building better products. C&K offers more than 55,000 standard products, 8.5 million switch combinations, as well as custom designed solutions, to help solve the hardest engineering challenges faced in the automotive, industrial, IoT, wearables, medical, telecom, consumer products, aerospace and POS terminal industries. For over 90 years, leading designers, manufacturers and distributors of electronics have turned to C&K when they require mission-critical reliability in an electromechanical switch, high-rel connector or custom assembly. The reason they keep coming back is because C&K's innovative design, cutting-edge production process, and strict quality assurance standards produce the world's best switches and components.  For more information, please visit www.ckswitches.com or connect with us on LinkedIn and Twitter.