PTS125 With up to 5 Million Cycles
PTS125 With up to 5 Million Cycles
By News Author | April 28, 2022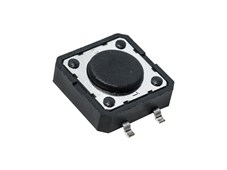 PTS125 Series through hole or surface mount tactile now features up to 5 million cycles
C&K, a leading manufacturer of high-quality electromechanical switches, has extended its PTS125 product series to have up to 5-million actuation cycles. With equipment lasting longer, customer requests for a longer life PTS125 were received and C&K quickly took action. Up from 200,000 cycles, the PTS125 Series now delivers one- and five-million actuation cycle versions. Increasing life cycle ensures end-products will continue to perform for as long as needed.
The PTS125 Series is a 12 x 12mm tactile switch widely used in consumer products, instrumentation and computing equipment.
Offering multiple options for actuation force (130, 180, 250 & 350gf) as well as THT/SMT options, the PTS125 Series provides flexibility when finding the right version for designs. The PTS125 Series has various heights (4.3, 7.3, 8.5 & 12mm) and additional snap-fit actuators to enable smaller, more robust end-products.
"With the growing demand in long lasting instrumentation and machinery, the PTS125 has had to be improved to fit industry needs, explained Daisy Liu, Product Manager at C&K. "Flexibility in design is important since every end product is different. We are adjusting our product offering to reflect a more inclusive product line that can be used for years to come."
The entire line of PTS125 tactile switches feature IP40 dust sealing, 50mA @ 12VDC and SPST-NO. The switches' standard size makes it an easy replacement for competitors parts that may not be meeting the quality or performance standards you desire.
For more information on C&K's new PTS125 series tactile, including details and specifications, click below: 
About C&K
At C&K, we do more than just make the world's best switches. We are trusted advisors, helping global brands and innovators improve customer satisfaction by building better products. C&K offers more than 55,000 standard products, 8.5 million switch combinations, as well as custom designed solutions, to help solve the hardest engineering challenges faced in the automotive, industrial, IoT, wearables, medical, telecom, consumer products, aerospace and POS terminal industries. For over 90 years, leading designers, manufacturers and distributors of electronics have turned to C&K when they require mission-critical reliability in an electromechanical switch, high-rel connector or custom assembly. The reason they keep coming back is because C&K's innovative design, cutting-edge production process, and strict quality assurance standards produce the world's best switches and components.  For more information, please visit www.ckswitches.com or connect with us on LinkedIn and Twitter.