C&K Launches RKC2 Tactile Switch following the RK Series
C&K Launches RKC2 Tactile Switch following the RK Series
C&K Launches RKC2 Tactile Switch following the RK Series
By News Author | September 23, 2021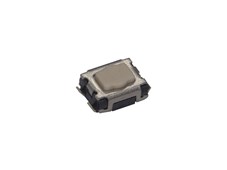 C&K Launches RKC2 Tactile Switch following the RK series
The RKC2 Series tactile switches are the perfect solution for automotive key fobs, medical devices & small electronic devices.
C&K as the biggest global switch solution provider is proud to introduce RKC2 Series of tactile switches to enrich the market needs following the RK Series.  RKC2 is a low profile switch that is perfect for applications where height is a large consideration and is available with four different actuation forces.  
The RKC2 was developed for small electronics like an automotive key fobs, IoT devices, wearables, mobile phones, high end consumer and medical devices.  The small footprint of the RKC2(3.5 x 2.7mm) makes it a great candidate for your design where space efficiency is crucial.  With a height of only 1.7mm, your PCB can sit close to the surface of your application, allowing more space for other necessary components.  The RKC2 has a hard actuator, which allows you to save cost on integrating additional interface buttons and is just another way that RKC2 helps you save space.
To help customize the right tactile feel for your product, the RKC2 is available in four different actuation forces (180gf, 250gf, 350gf, 500gf).  
"The RKC2 is a great addition to our growing line of microminiature tactile switches. Products have more and more functionality, while maintaining a small form factor, so meeting space constraints is important."  Said Daisy Liu, Global Product Manager at C&K, "the small size available allows our switches to be integrated into various design preferences in the market."
For more information on C&K's new RKC2 series tactile switches, including details and specifications, click below: 
About C&K
At C&K, we do more than just make the world's best switches. We are trusted advisors, helping global brands and innovators improve customer satisfaction by building better products. C&K offers more than 55,000 standard products, 8.5 million switch combinations, as well as custom designed solutions, to help solve the hardest engineering challenges faced in the automotive, industrial, IoT, wearables, medical, telecom, consumer products, aerospace and POS terminal industries. For over 90 years, leading designers, manufacturers and distributors of electronics have turned to C&K when they require mission-critical reliability in an electromechanical switch, high-rel connector or custom assembly. The reason they keep coming back is because C&K's innovative design, cutting-edge production process, and strict quality assurance standards produce the world's best switches and components.  For more information, please visit www.ckswitches.com or connect with us on LinkedIn and Twitter.