C&K's continued commitment to customers and channel partners
C&K Expands Global Distribution Network with Addition of Astute Electronics
C&K Expands Global Distribution Network with Addition of Astute Electronics
By News Author | February 18, 2021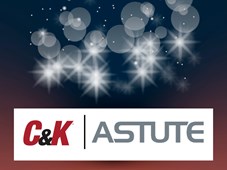 C&K, the leading manufacturer of high reliability electromechanical switches, has signed regional distributor Astute Electronics to better support its growing customer base. Astute Electronics offers superior engineering and design services that enable customers to shorten design cycles and simplify the supply chain process. Astute Electronics will support C&K in Australia, Germany, Ireland, Israel, Turkey and the UK.
The addition of Astute Electronics demonstrates C&K's continued commitment to customers and channel partners. C&K is dedicated to enriching the customer experience by streamlining the design and purchasing processes.
Astute Electronics will support the entire C&K product offering, which includes more than 55,000 standard products and a staggering 8.5 million switch combinations. C&K products are used in a wide range of applications including automotive, industrial, IoT, wearables, medical, telecom, consumer products, aerospace, and POS terminals.
Stewart Burns, Passive & Discrete BDM at Astute Electronics, said, "We're privileged to represent the extensive C&K switches range to our customer base. C&K is one of the first names that comes to mind when considering high-quality switch products for a diverse range of requirements.
"C&K is devoted to continuous growth through product innovation and investment in our channel partners. We are excited to expand our distribution network and look forward to building a strong partnership with Astute Electronics that results in the development of new business across traditional and emerging markets," said Lars Stegmann, Vice President at C&K.
For more information, visit https://www.astute.global/franchised/passive-discrete/ck/