Custom Product Development
Innovation that's made to order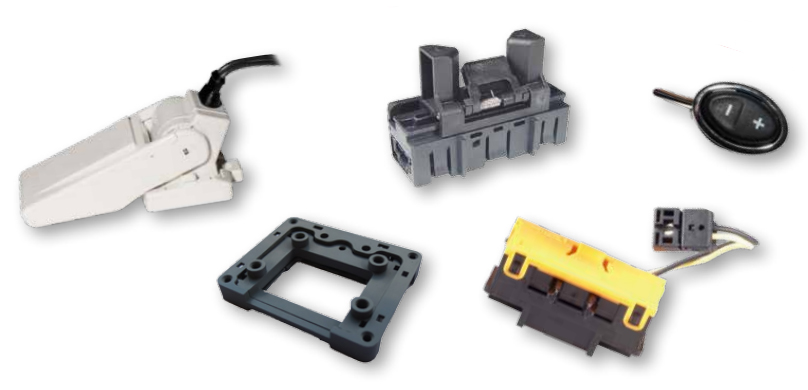 C&K can adapt products to match customer requirements for haptic touch, look, sound and any other unique features you might need. We will work closely with you to adapt designs in an affordable way and deliver an optimum solution.
C&K understands the vital role that our switch products play in our customers' designs – not only providing quality and functionality, but also contributing to the overall appearance. Whether in precision surgical instruments, sophisticated panel entry systems or car key fobs, we understand how our switches must adapt to the specifics of our customers' product designs.
With 8.5 million combinations of 55,000+ standard products based on 13 basic switch types, our switches are designed to be highly configurable, in order to accommodate the widest possible range of customer requirements. But even with such a broad range of options, a standard switch isn't always ideal for every innovative design. And this is where C&K really excels.   
Our global engineering teams are highly experienced in collaborating with our customers to develop tailored solutions – either by adapting one of our standard products or by creating a solution that doesn't yet exist. With expertise in industries including automotive, medical, industrial and aerospace, our company supports a full product development process that offers best value enabling customers to select the best available options for their needs.  
Engineering Capabilities
Our process starts by listening to our customers and the challenges they face integrating C&K switch products into their end products. Our trained engineering teams work closely with customer product design teams to integrate our switch knowledge into cost-effective solutions.
C&K maintains regional design centers in Newton, Mass. (US), Dole, France, and Huizhou, China to service your needs. We also offer extensive and quick-turn prototype services.
Our analytical tools include: 3-D CAD modeling, mold flow analysis, FEA, dynamic motion analysis, high speed photography, fixed and dynamic X-ray, thermal imaging, SEM / FTIR, sound chamber and force/displacement testing.
Module and Assembly Expertise
C&K has design expertise in the following key areas: 
Multi-function, Multi-Axis Switching
If your application calls for multiple switching functions, C&K will integrate our variety of switches into a single, innovative and logical assembly for you. We are experts at integrating our switches and your electronics into efficient and compact modules that will enhance the end-user experience. 
Integrating Switches and Electronics
C&K is skilled at incorporating custom graphics, logos, textures and finishes onto the critical surfaces that are important to the end-user. We use two-shot molding, paint and laser etch, pad printing and plating to make those surfaces stand out. 
Decorative Solutions
C&K will package your circuitry and our switches, from simple to complex, into an assembly.
Feel and Sound
At C&K we specialize in providing the precise feel and haptics that meet your requirements, including sound tunable tactile switch products. 
Lighting
C&K has extensive experience with backlight accenting and light piping to enhance your product appearance. We also build stand-alone automotive and transportation lighting fixtures and assemblies – including in-house molding of the critical lens component. 
Component Fabrication
We have extensive in-house component capabilities, manufacturing our own insert and injection molded parts, stamped parts and lead frames. 
Connections
C&K provides complete wire harnesses, terminated wires, integrated connectors, or header pins to connect our devices to your finished product. Our capabilities include automatic solder and crimping attachments, as well as testing to ensure the highest level of quality. 
Sealing
Our experience in developing and manufacturing sealed switches can help you seal your assembly from the elements.